Privacy Policy
UV-Blocker, LP., (UV-Blocker), is committed to keeping any and all personal information collected of those individuals that visit our website and make use of our online facilities and services accurate, confidential, secure and private. Our privacy policy has been designed and created to ensure those affiliated with UV-Blocker, LP. of our commitment and realization of our obligation not only to meet but to exceed most existing privacy standards.
THEREFORE, this Privacy Policy Agreement shall apply to UV-Blocker, LP. , and thus it shall govern any and all data collection and usage thereof. Through the use of UV-Blocker.com you are herein consenting to the following data procedures expressed within this agreement.
Collection of Information
This website collects various types of information, such as:
Voluntarily provided information which may include your name, address, email address, billing and/or credit card information etc., which may be used when you purchase products and/or services and to deliver the services you have requested.
Information automatically collected when visiting our website, which may include cookies, third party tracking technologies and server logs.
Please rest assured that this site shall only collect personal information that you knowingly and willingly provide by way of surveys, completed membership forms, and emails. It is the intent of this site to use personal information only for the purpose for which it was requested and any additional uses specifically provided on this site.
We may also gather information about the type of browser you are using, IP address or type of operating system to assist us in providing and maintaining superior quality service. It is highly recommended and suggested that you review the privacy policies and statements of any website you choose to use or frequent as a means to better understand the way in which other websites garner, make use of and share information collected.
Use of Information Collected
UV-Blocker, LP. may collect and may make use of personal information to assist in the operation of our website and to ensure delivery of the services you need and request. At times, we may find it necessary to use personally identifiable information as a means to keep you informed of other possible products and/or services that may be available to you from UV-Blocker.com . UV-Blocker, LP. may also be in contact with you with regards to completing surveys and/or research questionnaires related to your opinion of current or potential future services that may be offered.
UV-Blocker, LP. does not now, nor will it in the future, sell, rent or lease any of our customer lists and/or names to any third parties.
UV-Blocker, LP. may deem it necessary to follow websites and/or pages that our users may frequent in an effort to gleam what types of services and/or products may be the most popular to customers or the general public.
UV-Blocker, LP. may disclose your personal information, without prior notice to you, only if required to do so in accordance with applicable laws and/or in a good faith belief that such action is deemed necessary or is required in an effort to:
Remain in conformance with any decrees, laws and/or statutes or in an effort to comply with any process which may be served upon UV-Blocker, LP. and/or our website;
Maintain, safeguard and/or preserve all the rights and/or property of UV-Blocker, LP.; and
Perform under demanding conditions in an effort to safeguard the personal safety of users of UVBlocker. com and/or the general public.

Children Under Age of 13
UV-Blocker, LP. does not knowingly collect personal identifiable information from children under the age of thirteen (13) without verifiable parental consent. If it is determined that such information has been inadvertently collected on anyone under the age of thirteen (13), we shall immediately take the necessary steps to ensure that such information is deleted from our system's database. Anyone under the age of thirteen (13) must seek and obtain parent or guardian permission to use this website.
Unsubscribe or Opt-Out
All users and/or visitors to our website have the option to discontinue receiving communication from us and/or reserve the right to discontinue receiving communications by way of email or newsletters. To discontinue or unsubscribe to our website please send an email that you wish to unsubscribe to Customerservice@UV-Blocker.com. If you wish to unsubscribe or opt-out from any third party websites, you must go to that specific website to unsubscribe and/or opt-out.
Links to Other Web Sites
Our website does contain links to affiliate and other websites. UV-Blocker, LP. does not claim nor accept responsibility for any privacy policies, practices and/or procedures of other such websites. Therefore, we encourage all users and visitors to be aware when they leave our website and to read the privacy statements of each and every website that collects personally identifiable information. The aforementioned Privacy Policy Agreement applies only and solely to the information collected by our website.
Security
UV-Blocker, LP. shall endeavor and shall take every precaution to maintain adequate physical, procedural and technical security with respect to our offices and information storage facilities so as to prevent any loss, misuse, unauthorized access, disclosure or modification of the user's personal information under our control.
The company also uses Secure Socket Layer (SSL) for authentication and private communications in an effort to build users' trust and confidence in the internet and website use by providing simple and secure access and communication of credit card and personal information. In addition, UV-Blocker, LP. site is secured by GeoTrust SSL certificates are providing up to 256 bit encryption thereby offering the highest level of encryption and security possible. This means you can rest assured that communications between your browser and this site's web servers are private and secure. . Furthermore, in an effort to comply with international data protection standards, our website has been certified by the Department of Commerce's United States and the European Safe Harbor Framework in an effort to further protect our international users and members.
Changes to Privacy Policy Agreement
UV-Blocker, LP. reserves the right to update and/or change the terms of our privacy policy, and as such we will post those change to our website homepage at UV-Blocker.com, so that our users and/or visitors are always aware of the type of information we collect, how it will be used, and under what circumstances, if any, we may disclose such information. If at any point in time UV-Blocker, LP. decides to make use of any personally identifiable information on file, in a manner vastly different from that which was stated when this information was initially collected, the user or users shall be promptly notified by email. Users at that time shall have the option as to whether or not to permit the use of their information in this separate manner.
Acceptance of Terms
Through the use of this website, you are hereby accepting the terms and conditions stipulated within the aforementioned Privacy Policy Agreement. If you are not in agreement with our terms and conditions, then you should refrain from further use of our sites. In addition, your continued use of our website following the posting of any updates or changes to our terms and conditions shall mean that you are in agreement and acceptance of such changes.
Local Currency
By using our website, you (the visitor) agree to allow third parties to process your IP address, in order to determine your location for the purpose of currency conversion. You also agree to have that currency stored in a session cookie in your browser (a temporary cookie which gets automatically removed when you close your browser). We do this in order for the selected currency to remain selected and consistent when browsing our website so that the prices can convert to your (the visitor) local currency.
How to Contact Us
If you have any questions or concerns regarding the Privacy Policy Agreement related to our website, please feel free to contact us at the following email, telephone number or mailing address.
Email: Customerservice@UV-Blocker.com
Telephone Number: 855-822-5625

Mailing Address:
UV-Blocker, LP.
2 Canals End Rd, STE 204B
Bristol, Pennsylvania 19007-1024
Dermatologist Recommended and Melanoma International Foundation Approved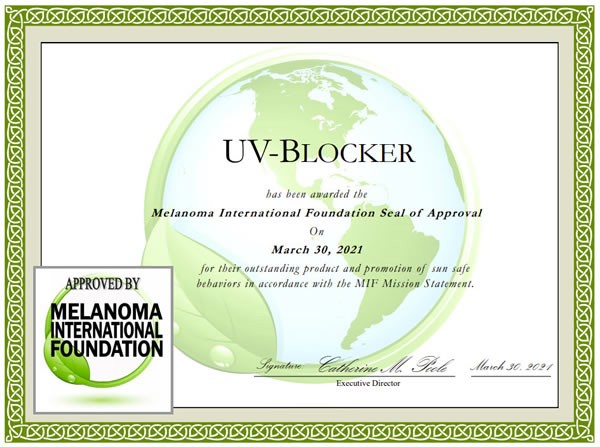 The UV-Blocker has received the Melanoma International Foundation Seal of Approval each year since 2011.
Unfortunately due to COVID the Melanoma International Foundation was forced to close their doors for good in 2020. Here is a link to their Seal of Approval page.
What Leading Dermatologists Are Saying About the UV-Blocker Umbrella.
Dermatologists understand better than anyone the damaging effects the sun can have on the skin, the severity of which can range from simple sunburn to a severe diagnosis of skin cancer. To better protect their patients, some of the nation's leading skincare medical professional shave recommended the UV-Umbrella. They find that the level of protection this umbrella provides will help keep patients and their families safe from the effects of skin-damaging UV rays.
"My patients routinely ask me about other UV-protective options besides sunscreen and sun avoidance. Now, I have another fantastic option for my patients. Being a UV-Blocker umbrella user myself, this travel umbrella has many purposes besides rain protection. I highly recommend the UV-Blocker umbrella to you and your family for its compactness, ease of use and storage, durability, coolness, and most importantly, its sun protection against skin cancer and premature aging."
Dr. David A. Kasper, DO Dermatology & Skin Cancer Institute - Lansdale, PA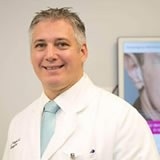 "It's not just the Baby Boomers who I have been treating for sun-related skin damage including skin cancer. I have seen an increasing number of younger individuals with varying degrees of UV-related skin problems…problems that are most often preventable. I spend vacation time with my grandchildren on Rehoboth Beach in Delaware. The first items we pack are our UV-Blocker Beach Umbrellas. I have been recommending them to my patients for years."
Dr. Andrea Buck, DO Burlington County Dermatology - Medford NJ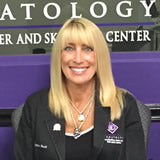 "An all-to-common result of exposure to the sun is actinic keratosis. Usually affecting older adults, it can develop on the face, lips, ears, back of hands, forearms, scalp, and neck. The rough, scaly skin patch enlarges slowly and can eventually become cancerous. The UV-Blocker umbrella is one of the most effective defenses against this type of sun damage on the market today. I highly recommend it to patients who spend time outdoors in sunny conditions."
Dr. Aradhna Saxena, MD Dermatology & Skin Cancer Institute - Fort Washington, PA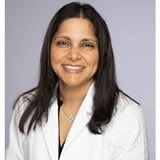 Customers Agree… The UV-Blocker Umbrella Is a Difference Maker in Their Lives.
Based upon the recommendations of their dermatologists and their research, people have made the UV-Blocker the accessory of choice when heading out to the beach, a soccer match, or a backyard barbecue. They love the peace of mind knowing that their umbrella is providing the highest level of protection from the sun's damaging rays.
My dermatologist said that sunscreen is not enough
"Excellent! I bought it because my dermatologist said that sunscreen is not enough protection. It is actually cooler underneath and even though lightweight, is well made and sturdy. It is everything I wanted and more! Love it!"
Hope B. - UV-Blocker Travel Umbrella Customer
My dermatologist was delighted to hear about the UV Umbrella during a recent checkup
"I'm very fair-skinned, burn easily, and am on a couple of medications that require me to limit sun exposure. The UV Umbrella is a great solution! My dermatologist was delighted to hear about the UV Umbrella during a recent checkup."
Donna W. - UV-Blocker Travel Umbrella Customer
I was pleased to have the beach Umbrella with me at my most recent vacation. I was able to stay on the beach for a longer time. I have no signs of sunburn.
"I have had several skin cancers removed in my life. I was pleased to have the beach Umbrella w/ me at my most recent vacation. I was able to stay on the beach for a longer time. I have no signs of sunburn. The temperature of the beach was 90 but sitting underneath the umbrella felt much cooler by at least ten degrees. thank you again for the chance to purchase something that obviously has improved my ability to enjoy the beach more."
Lyn B. - UV-Blocker Beach Umbrella Customer
I had melanoma successfully removed 10 years ago and rely on products like this to stay cancer free
"The umbrella works great to provide shade in the sun. The company responded quickly to my question about the product and demonstrated its strong commitment to its customers and product warranty. I had melanoma successfully removed 10 years ago and rely on products like this to stay cancer free."
Carol N. - UV-Blocker Travel Umbrella Customer
The UV-Blocker umbrella is wonderful - It's changed my life!
"It's changed my life! I live in sunny Kelowna British Columbia. I have had lots of skin cancer and the last one was a huge surgery on my nose. Hats make me feel hot and uncomfortable. The UV-Blocker umbrella is wonderful."
Emme - British Columbia - UV-Blocker Travel Umbrella Customer